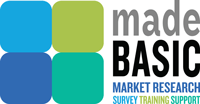 Our Approach
madeBASIC projects are built on efficiency and accuracy. Projects are programmed with DASH software and deployed on the most suitable platforms (CATI, web, tablet) and languages (English, French, or Spanish).
Why Choose Us for Your Surveys?


Data Accuracy

: A project is only as good as its results. We ensure that the data being collected is accurate, with thorough testing and cleaning, so that our clients will receive results they can trust.

Project Efficiency

: Each project is designed to give our clients exactly what they need when they expect it.

Complete Customization

: Our use of modern platforms to administer surveys – such as tablets – allows clients to customize the look and feel of their projects across many different devices.

Ongoing Access to Project Results

: While a project is in field, clients can view instant results as they arrive through a live results feed. All results provided by respondents are confidential and non-identifiable.

Simplified Future Project Integration

: Our project platforms allow any potential project to be used once, on a semi-recurring basis, or day-to-day in a manner that is cost-effective and convenient. New elements can easily be integrated into future projects, making subsequent projects easy to maintain, rebuild, or update.