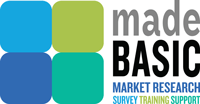 Support
At madeBASIC, we pride ourselves on client support. We offer expertise and knowledge at every stage of a project to give our clients the tools to either be fully involved or keep their focus on other business priorities while we keep the project running smoothly.
Let Us Support You
We support your project in the following areas:
In-Depth Project Testing

: Each madeBASIC project is programmed and tested in-house before being sent to clients for final testing. Feedback from the testing process is integrated into the final survey before it goes live to respondents.

Regular Project Monitoring

: madeBASIC projects are continuously monitored throughout release to ensure accuracy and a high level of respondent participation.

Data Privacy and Security

: All data is collected through our secure networks and is only available authorized clients.

Regular Communication and Availability

: From the day that a project starts to the time it finishes, we will provide regular updates, answer questions, and offer insights into the process, ensuring that our clients are continuously informed along the way.

Reputable Industry Partners

: For clients requiring project support at levels that go beyond our specific services, madeBASIC has a strong network of industry contacts who can bring additional skills and expertise, as needed.