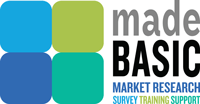 Policy
The madeBASIC Privacy Policy outlines the ways in which we protect the personal information given to us by clients and project participants.
In keeping with the principles outlined by the Personal Information Protection and Electronic Documents Act (Canada), the madeBASIC Privacy Policy exists to make our methods of collecting and storing personal information accessible and transparent.
Before participating in any of our surveys, project participants should be aware of our privacy principles:
Personal information that is shared by in a project will only remain with us.
Any individual answers that are provided by survey participants remain confidential and are not associated with any information that is personally identifiable unless you have consented for us to do so.
Any information provided to us that is personally identifiable will not be sold to any individuals or organizations.
Any potential survey participants can decide if they wish to take part in a survey, if they want to answer any individual questions, and they can end their involvement in a survey at any step of the participation process.
madeBASIC Privacy Policy Guidelines
madeBASIC Takes Responsibility for Personal Information

: madeBASIC is responsible for personal information in its possession and use strict agreements and measures to offer equal protection when an outside party is also using said information.

Explanation of Purpose

: Before personal information is obtained by madeBASIC, we will explain and clarify the purpose for collecting the information. Unless current laws allow otherwise, potential respondents will receive an explanation of purpose before any information is used by us. Any information that is gathered by madeBASIC will solely be used by us to complete studies in research methods that are quantitative or qualitative in nature; to garner opinions from respondents that may make them appropriate for additional marketing and research studies; and to follow any legal regulations. If madeBASIC chooses to share participant information with its clients or additional outside parties, the information is presented in an aggregate style that does not allow it to be matched up with that of any individual participant.

Participant Awareness and Permission

: madeBASIC requires the consent of a survey participant before any personal information can be used or collected, except when legally authorized. Participants always have the option to decline participating in a survey or decline answering any individual questions, and end their participation in a survey at any point during the collection process. By giving their consent to participate in an interview, a respondent is also agreeing to be asked questions from the survey. Personal information that is gathered by madeBASIC during the interview process is typically not shared to any third party, but on certain occasions, the project client may have a reason to make contact with a participant in the future. In such instances, the participant will always receive an explanation of why this could happen and then ask for the participant's permission in advance of any follow-up communication.

Restrictions on Gathering Personal Information of Respondents

: During the gathering of personal information from a respondent, madeBASIC will only obtain personal information that is necessary for the explanations given by madeBASIC at the outset of the project. All information gathered by madeBASIC will only be obtained through measures that are legal.

Utilization and Sharing of Personal Information

: Unless the law allows it or a survey participant has already given permission, madeBASIC will not share any personal information for any reasons apart from why the information was obtained. Any information gathered from the respondent will be kept for only the amount of time needed to complete the obligations of the project. The personal information provided to madeBASIC by a respondent may be shared by madeBASIC with the following entities: a madeBASIC client or outside party, provided that the participant has agreed that the information can be shared; an outside party that is required to represent madeBASIC in handling specific project duties; public authority representatives in situations where the sharing of information can prevent or lesson any dangerous impact to human life or property. Internal access to individual information is also offered to employees of madeBASIC who are required to access the information as needed by the duties of their positions within the company. In instances that require a respondent to be contacted again for reasons relating to the project or to gather additional information, personal information will be kept by madeBASIC for the necessary time to facilitate this task.

Maintaining that Personal Information is Accurate

: To reduce the instance of incorrect information being used relating to a participant, any personal information obtained by madeBASIC will be as complete and accurate as possible and updated by madeBASIC when necessary and appropriate for the purposes of the project.

Protection of Personal Information

: Personal information obtained by madeBASIC during a project will be guarded against incidents of theft, delinquent access or sharing, duplication, tampering or loss. In addition, madeBASIC will use strict binding agreements with any outside parties to ensure that information will remain confidential and be used only for the intended tasks of the project.

Accessibility to Privacy Policies and the Sharing of Personal Information

: madeBASIC will maintain detailed information regarding policies that are in place concerning the collection and sharing of personal information provided by project participants, how this information is obtained by madeBASIC, used by madeBASIC, potentially shared with an outside party along with which outside specific parties may have access to it. As well, the job title and contact address of those people who maintain madeBASIC's adherence to its personal information and privacy policy will always be available. These contacts will also handle concerns and inquiries.

Amendments to Personal Information

: If an individual provides a written request to madeBASIC, the company will share with them the collection, utilization, and releasing of the individual's information. The individual will also be able to view this information, unless any project, madeBASIC, or outside party related information that is deemed confidential or threatening to another person would be exposed in doing so. Individuals may also file complaints relating to the accuracy of their information. In the event that said information is not accurate, madeBASIC will remedy the situation and update the information as needed. To protect the personal information that is on file, any individuals who request authorization to their record with madeBASIC will need to offer a necessary amount of identifiable information. If there are discrepancies with the accuracy in an individual record, madeBASIC will make note of this and when necessary, share this information with outside parties who also have access to the information.

Adherence Challenges

: Individuals may instigate challenges related to the adherence of madeBASIC to its Privacy Policy. During any investigations of challenges or complaints brought forward by individuals with regards to the existing Privacy Policy, madeBASIC can call upon appropriate guidance from outside the company in advance of delivering a reply to complainants. For any challenges that are deemed to be warranted, madeBASIC will swiftly respond by making the necessary policy adjustments and actions needed to handle the challenge accordingly. Individuals who file a challenge will be updated as to the status of madeBASIC's investigation into the challenge.
madeBASIC will continuously review its Privacy Policy to ensure relevance with changes to laws, technology, and industry regulations.
Additional Information
For inquiries or complaints regarding the madeBASIC Privacy Policy, please contact madeBASIC by e-mail at info@madebasic.ca.
Additional privacy information can be found online at the Privacy Commissioner of Canada's website at www.privcom.gc.ca.