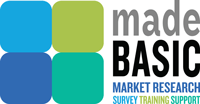 Our Commitment
We are committed to supporting your needs: our survey platform is fully customizable to your requirements, both on the front-end survey and the resulting data. Our project expertise spans many different economic sectors - from automotive to hospitality and medical to retail - that we can leverage for your benefit.
Our Services
We are a market research supplier. Our services include:
Survey programming for multiple platforms (Computer Assisted Telephone Interviewing, web, tablet), including multiple-language surveys
Survey testing, both in-house and client testing
Web survey hosting and deployment, including email invitations
Data cleaning
Data tabulation and delivery in various formats, including tables, SPSS, Excel, Word, tab-delimited or flat-ascii
Our History
madeBASIC was founded by David Gillis in 2000. We have developed our industry footprint by making data collection tools accessible to many levels of market research, fulfilling the industry need of back-end survey construction and data collection using DASH technology – overseeing projects from the programming stage to final table sets.
By building our business foundation on seasoned industry experience, positive word-of-mouth, and a brand of quality and efficiency, madeBASIC has become a trusted market research partner for industry firms throughout North America. As part of our continuing industry evolution, our programming is now optimized for the web and tablets, while our company has grown to include internal specialists and key industry allies who can collectively offer our clients specific benefits on every project.